KV3C 2015 Summer Schedule & Events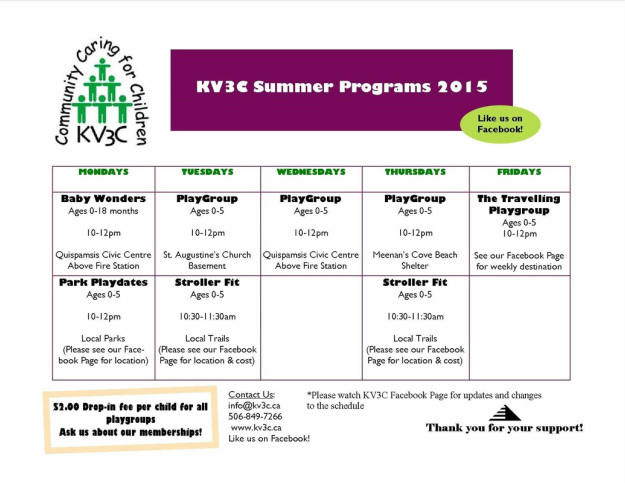 ---
Notice to All Families: As of Sept 1/15 in an effort to maintain program costs, Fees for Playgroup will change to $5 per family (previously $2 per child)

Playgroups are our main activity. 10am-noon.
For parents, grandparents, caregivers of children 0-5 years old to attend with the children.
Everyone is welcome! This is not a drop-off program. Adults are expected to participate and have fun too!
No pre-registration required. Drop-in suggested donation $2/child.
Activities include combinations of theme-based Play, Singing, Dress-up, Story Time, Crafts and more!

Baby Wonders is specifically for 0-16 months. Mondays at the Quispamsis Civic Centre, 10am-noon.
The first year for Baby is filled with wonder not only for baby but for Mom and Dad too. This playgroup is an opportunity for parents of babies to discover and explore the world of parenthood with other parents. Learn what to expect in the early years of parenting in a group environment where we cover a variety of topics from sleep (or lack there of) to infant massage with qualified guest speakers.
$2 suggested donation.

Stroller Fit - A unique 8-week program led by summer staff member Kate Power who is a trained Kinesiologist (BScKin). For babies over 6 weeks old.
The program includes:
- Warm-up (Dynamic stretches & slow start pace)
- 30-40 min Walk (Gradually building pace, water breaks as needed, fun gross motor sing-a-long intervals for small children)
- Strengthening exercises (Supportive stroller lunges, squats & calf raises, etc.)
- Cool Down (Static stretching)

$40.00 for all 16 sessions OR special $20.00 for members!
OR $5.00 drop-in fee!
Contact us if you have any further questions!

Park Playdates - Essentially this is a version of our Playgroups at various outdoor locations. See our Facebook page for details. Or contact us.
Drop-in suggested donation $2/child.

Traveling Playgroup - Different activities for the 0-5 year old crowd with parents and caregivers. Locations will be announced on our Facebook page. Or contact us.
Drop-in suggested donation $2/child.