Join us for Lunch March 25! Tickets limited! 1pm sitting only!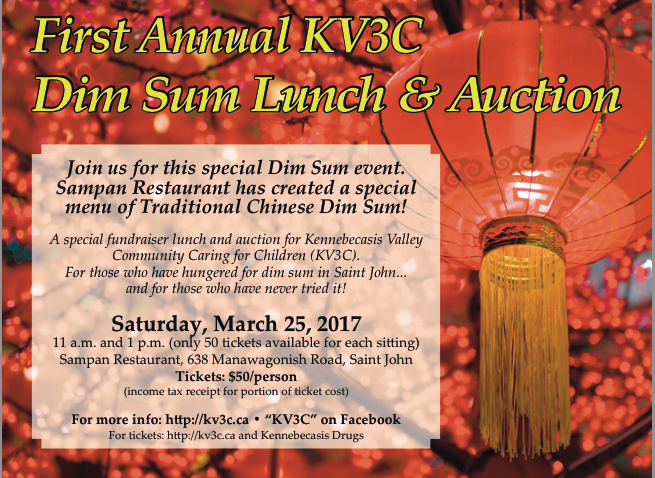 Purchase tickets HERE! ONLY 1:00pm seating available now. VERY limited quantities so Act Fast!


Sampan Restaurant is located at
638 Manawagonish Rd, Saint John, NB E2M 3W5, Canada Click for Map
---
Kennebecasis Valley Community Caring for Children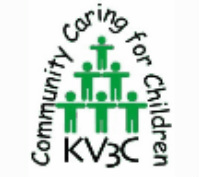 Families are the foundation of our society.
Children are our future.
So why not invest in our future?


KV3C offers community-based quality programs that bring parents and babies/children together in fun, safe and developmentally appropriate activities. Ideal for stay-at-home parents, grandparents, and childcare providers.

Our Mission is to connect with parents, businesses, government and community partners to provide resources and support to ensure the lifelong learning of all children in our community.

A registered charity since 2001, and the only universal programs in the area, we have grown to over 3000 participants annually. We are committed to our friends, families and the community and want to see KV3C continue its mission.
---
Welcome to new Board members at the AGM!
Thank you to everyone who gave of their time and talents in 2015 to benefit families in our community through KV3C programs.

We want to recognize many years of service from

Carolyn Rowe Smith

, occupational therapist and awesome mom of 2 sweet daughters who attended Baby Wonders and Playgroups for years. Carolyn served on the Board of Directors and made special contributions to the Human Resource committee.

Also, we thank

Donna Thompson,

bank executive and mom of 2 little ones, for serving on the Board of Directors and we look forward to seeing both of these lovely ladies and families at our upcoming KV3C functions!

Our Special Events, Human Resource and Communications committees are looking for members.

Send us an email

!

We heard from guest speaker,

Cheryl Moore

, owner of

HIIT30kv Fitness

and nutrition expert, who gave us tips on meal preparation, time management and ways to help our families live and eat better. Thanks for the yummy treats and inspiration to live our best lives!

And we elected 5 new members to the Board of Directors:

Jacqueline Albinati
Thésa Beaupre
Melissa Clarke MacDonald
Marion MacEachern
Christine Pond​

What a great bunch of people to bring together for this awesome organization!
---
We require a minimum of $40,000 per year to operate programs. All funds raised go directly to KV3C. Please contact us if you (or someone you know) could help reach individual or corporate sponsors.
If you would like to make a tax-deductible donation to help continue our work:

---

These awesome Canadian labels really stick though years of laundry and dishwasher cycles! Fast delivery and great customer service. They will donate 20% of all sales through our KV3C campaign! It's a win-win! Join our team and tell all your friends to buy through our
unique link
!
---
---
Thank you for your support of universal family-centred programs in the Kennebecasis Valley